REGISTRATION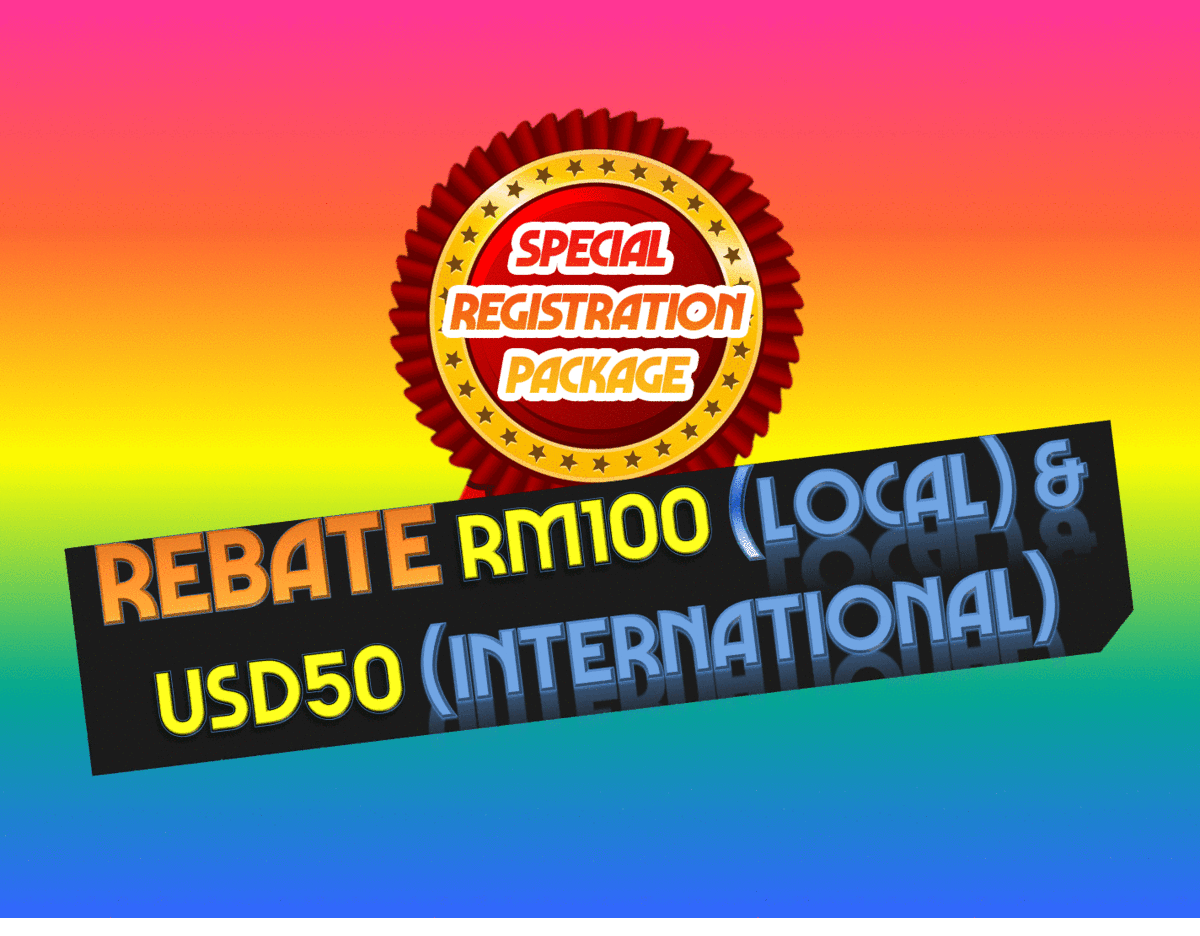 Special discounts for those who register early. Hurry up and sign up. Follow the link below for online registration:-
>>>CLICK HERE FOR ONLINE REGISTRATION!
note: for rebate, please read the terms and conditions below for more info before registration!
UNIVERSITI SAINS MALAYSIA VIRTUAL ACCOUNT INFORMATION
*all bank transactions include Telegraphic Transfers (TT) from overseas
| | |
| --- | --- |
| RECIPIENT | UNIVERSITI SAINS MALAYSIA |
| BANK | CIMB Bank Berhad |
| ACCOUNT NUMBER | 98986101401378 |
| BANK ADDRESS | Universiti Sains Malaysia, Blok 32, 11800 USM, Pulau Pinang, Malaysia |
| SWIFT CODE | CIBBMYKL |
FEES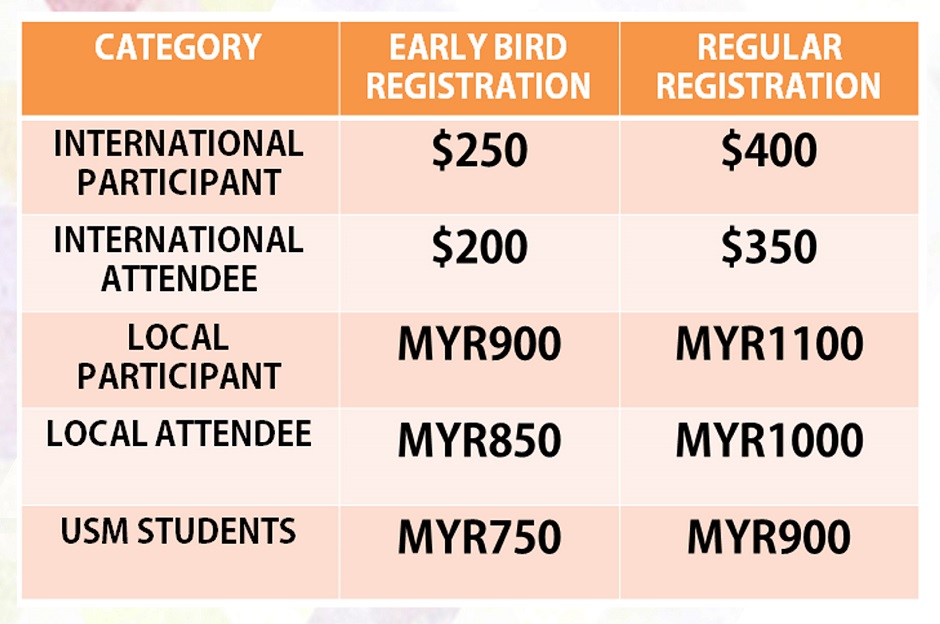 IMPORTANT NOTE
For proof of payment, kindly e-mail your payment slip to This email address is being protected from spambots. You need JavaScript enabled to view it.
*REBATE!
| | |
| --- | --- |
| CATEGORY | AFTER REBATE |
| INTERNATIONAL PRESENTER | USD200 |
| LOCAL PRESENTER | RM800 |
| INTERNATIONAL AUDIENCE | USD150 |
| LOCAL AUDIENCE | RM750 |
*Terms and conditions:
1) Rebates are available for:
a) Group Participation (2nd and subsequent participants): please attach first participant from the same research group's reference number / abstract acceptance letter as a proof. The first participant/group leader is encouraged to submit all the abstracts in a single document to speed up our verification process.
b) Alumni USM: please attach the transcript/ degree scroll as a proof.
c) Past ICYC participants (1st to 6th ICYC): please attach previous ICYC certificate as a proof.
2) Please e-mail the proof to This email address is being protected from spambots. You need JavaScript enabled to view it.
3) Please wait for the verification e-mail from us before proceeding with the rebate fee payment.
Valid before June 30, 2019
VISA AND VACCINATION
Visa
It is our privilege to inform that travel document is required from participants who wish to enter Malaysia for this purpose. Please take note that you need to allocate sufficient time to prepare this travelling document. Be noted that this document does not commit the Committee of ICYC2019 to any kind of financial support, hosting arrangement, nor does it guarantee an entry visa issue. The invitation letter will only be issued by the Organizing Committee of International Conference for Young Chemist, Universiti Sains Malaysia after you have registered online. Therefore, you should complete the registration form as early as possible in order to obtain your visa on time for the conference. Participants are advised to make sure they complete and double-check all legal requirements to enter Malaysia. Besides a valid passport, an entry visa may also be required. Visas are required for visitors coming from countries that require visa to enter Malaysia.
Visa requirements for participants from these countries:
Afghanistan (Visa with reference)

Ethiopia*

Pakistan

Angola*

Ghana*

Rwanda*

Bangladesh

Guinea-Bissau*

Serbia Montenegro

Bhutan

Hong Kong (C.I/D.I)

Sri Lanka

Burkina Faso*

India

United Nation(Laissez Passer)

Burundi*

Israel**

Western Sahara*

Cameroon*

Ivory Coast (Cote d'ivoire)*

Yugosalavia

Central African Republic*

Liberia*

China

Mali*

Colombia*

Mozambique*

Congo Democratic Republic*

Myanmar

Djibouti*

Nepal

Nigeria*

Eritrea*

Niger*
Note:
Citizens for countries marked as (*) are allowed to enter Malaysia by air only.

Citizens from Israel** who wish to enter are required Visa and approval from Ministry of Home Affairs, Malaysia.

Visa is not required for a stay of less than one (1) month for ASEAN nationals except Myanmar.

Visa is required for duration of stay exceeding (1) month except for Brunei and Singapore nationals.
Please refer to the website of Immigration Department of Malaysia for the details of Visa Application.
For further enquiry, please refer to the nearest Malaysian Representative Office Abroad.
Vaccination
Yellow Fever certificate is required upon landing in Malaysia for countries as listed below:
Angola

Ethiopia

Senegal

Benin

Gabon

Sierra Leone

Bolivia

Gambia

South Africa

Brazil

Ghana

Sri Lanka

Burkina Faso

Guinea-Bissau

St Kitts & Nevis

Burundi

Kenya

Suriname

Cameroon

Mali

Tanzania

Central African Republic

Niger

Togo

Chad

Nigeria

Uganda

Djibouti

Panama

Venezuela

Equador

Peru

Zaire

Guinea

Rwanda

Zambia

Eritrea

Sao Tome & Principe
Kindly consult your local physician for other recommended vaccination.